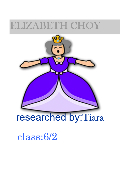 Read Online
Elizabeth Choy
Average Rating
:
2.9
(

2

votes)
Elizabeth Chinese name:Choy-Yong Su-Moi was born on 29 November 1910 to a Hakka family in Kudat. Her great-grandparents first came to Kudat from Hong Kong to assist German missionaries in their work. The eldest of 11 children>Choy's father worked as a civil servant after completing his early education in China with some English education in North Borneo, where he married the daughter of a priest.
http://v.koobits.com/1kd875ryia4p
Copy the book address above and add to your e-library!