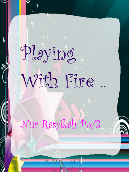 Read Online
Playing With Fire
Average Rating
:
3.6
(

5

votes)
I was reading the newspaper on a rainy sunday afternoon. I love reading. Reading is my hobby. I love reading books, newspaper and magazines. Every year, almost all of my birthday presents are books. I read an article on a newspaper. It was about fire. As I was reading that article, it reminds me of something.
http://v.koobits.com/1kd8lu-_ph4p
Copy the book address above and add to your e-library!