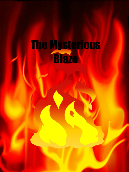 Read Online
The Mysterious Blaze
Average Rating
:
2.5
(

6

votes)
One sunny afternoon,I was about to go inside the shopping mall to buy some things for my cousin's birthday. Suddenly the fire alarm went off,I turned my head to the direction of the sound and I saw the part of the shopping mall was on fire.I stood rooted on the ground.
http://v.koobits.com/1kd8z2l7ro4p
Copy the book address above and add to your e-library!