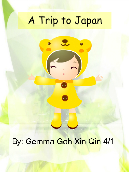 Read Online
A Trip to Japan
Average Rating
:
3
(

5

votes)
It was our first day in Japan. We used a map to find our way around the city. Besides being in Japanese, the map was so messy that my father got confused. A few momments later, a guy who felt that we needed help said something in Japanese. My father and mother did not understand what he was saying.
http://v.koobits.com/1kd8fl-_ph4p
Copy the book address above and add to your e-library!