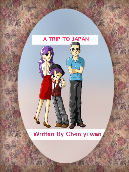 Read Online
A Trip to Japan
Average Rating
:
3.1
(

7

votes)
last saturday,my family and I went to Japan during our vacation.we arrived there in an areoplane.when my father took out the map,he did knew how to read the map as it was a Japanese map. My mother got worried because she has a feeling that we were lost in the city centre in Japan. Just then,a passer-by walked towards us.
http://v.koobits.com/1kd8-yjxsm4p
Copy the book address above and add to your e-library!