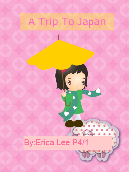 Read Online
A Trip to Japan
Average Rating
:
1.7
(

3

votes)
"Mum,how do we get to the shoppping centre?" Dad said anxiously looking at the map. My mother and I did not know too. We were all confused.It did not help either.Suddenly,I remembered that I had brought along on English-Japnese dictionary with me.
http://v.koobits.com/1kd8zlu-yt4p
Copy the book address above and add to your e-library!