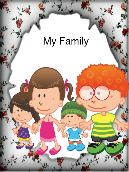 Read Online
My Family
Average Rating
:
2.6
(

12

votes)
Hi,my name is Min. I'm nine years old.My birthday is on 12 December.I love to drink Green Tea.I like Chinese New Year because I can play with my cousins and eat tidbits. I'm going to tell you about my family.Firstly,I will introduce my mother.My mother like to watch Korean shows.She also like to eat Kimchi Noodles.
http://v.koobits.com/1kd8zroxs14p
Copy the book address above and add to your e-library!