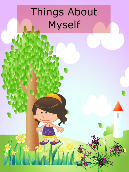 Read Online
Things about myself
Average Rating
:
2.4
(

8

votes)
My name is Jun En.I am seven old this year.I love chocolate flavour ice- cream.I have a sister name Jun Ning. My Sister is nine years old this year.She has black hair and like to play catching.She like to wear dress but I prefer pants.She like to watch Korea shows.
http://v.koobits.com/1kd87-56hg4p
Copy the book address above and add to your e-library!