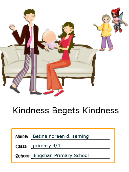 Read Online
Kindness Begets Kindness
Average Rating
:
4.3
(

18

votes)
Back at home, the family was happy and relieved to have baby Trisha safely back in their embrace. After Trisha was fed milk and coaxed to sleep, James and Eliza sat down to discuss what to do next.
http://v.koobits.com/1kd8f76jgk4p
Copy the book address above and add to your e-library!