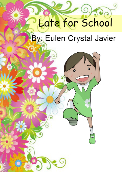 Read Online
Late For School
Average Rating
:
3
(

8

votes)
One day,Crystal woke up and realized that she was late for school. She took a bath and got ready. During breakfast she tried to remember what she did last night that made her woke up late then she recalled that last night after studying, she watched a horror movie and was unable to sleep because of it. She got so scared.
http://v.koobits.com/1kd874p9ac4p
Copy the book address above and add to your e-library!