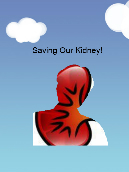 Read Online
Saving our kidney
Average Rating
:
3.5
(

3

votes)
To locate your kidneys, put your hands on your hips, then slide your hands up until you can feel your ribs. Now if you put your thumbs on your back, you will know where your kidneys are. You can't feel them, but they are there.
http://v.koobits.com/1kd8lwu6yq4p
Copy the book address above and add to your e-library!