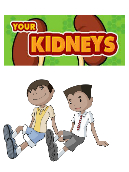 Read Online
Your kidneys
Average Rating
:
3.8
(

4

votes)
The functions of kidneys:
1. Removal of waste from the
blood
2. Maintain fluid balance in the
body
3. Maintain the acid and
mineral balance in the body
4. Produce vitamin D
5. Make red blood cells
6. Regulates blood pressure
7. Filter the blood
http://v.koobits.com/1kd8l-jqi14p
Copy the book address above and add to your e-library!