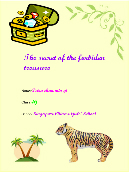 Read Online
The secret of the forbidden treasure
One day when Tiana and her friends were taking a walk in the woods,they found a scroll on the ground. The scroll reads, "Take a look,
or a peek.
the treasure is in this woods of where you seek.
Pick up clues along the way,
so start looking and seize the day!
First clue:Follow a trail of pebbles and meet something
blue "