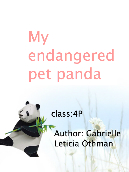 Read Online
Who's a good girl?You are! You are!" Those words make me very nostalgic. It reminds me about my cute and lovable baby panda. Her name was Christine.
Her fur was as soft as can be, beautiful black and white, twinkling cute eyes.
When I came back from school, tuition or anywhere it might be, she would wait at the door, ready for me to play with her. I made a comfortable, bamboo-themed corner just for her.