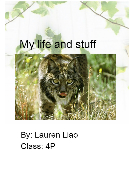 Read Online
Hi! My name is Bridget. This is the story of my life, my auto biography. I have spent lots of time doing this, so I hope this is good! Enjoy!
About us lberian Lynxes
Iberian Lynxes have distinctive, leopard-like spots with a coat that is often light grey or various shades of light brownish-yellow. Our coats are also noticeably shorter than other Lynxes, which are typically adapted to colder environments!