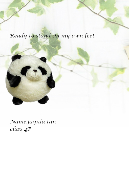 Read Online
Ready To Stand On My On Feet
Now i am all alone,ready to stand on my own feet by myself and not afraid nor scared.After my mother's death,I am finally ready to protect myself….
It all started five years ago……
I was on my first adventure with my mother and I was as happy as a lark .My mother said that I could try finding bamboos from three months old onwards.
Cuddling under my mother's body , I took my first step into the dark forest.