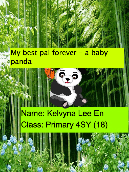 Read Online
My best pal forever – a baby panda
My best pal forever was a baby panda called Pandy. The memories of our times together will remain with me for as long as I live.
It all began when ……
I was eight years old at that time. It was a lazy Sunday morning and I was walking to my best friend's house nearby to play with her.
On my way there, I saw a little pink creature walking across the road, as a car was approaching!