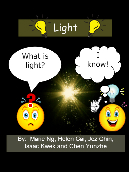 Read Online
One sunny day, Max and his sister, Jane, went cloud-watching in a field.
The glare of the fiery sun blinded Max and he shielded his eyes…
Well, I know that light is a form of energy that we can see, but I still want to find out more about light. Why don't we ask the Professor?