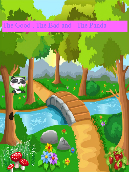 Read Online
The Good,The Bad and The Panda
Once upon a time , there was a Japanese princess named Hatunamiku.
She was a nature and animal lover.One day while taking her morning stroll with her dog, a sheet of a newspaper flew into the palace garden and landed on her feet.
She picked it up and look at it carfully
"What is this…"She said to herself.She
was reading it when she saw an artical it read "Poachers are killing Pandas …Someone please help"Hatunamiku saw
the artical and wanted to do something
about it.But how can she???