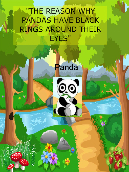 Read Online
The Reason Why Pandas Have Black Rings Around Their Eyes
Once apon a time in China, there lived a young panda called Jia Jia.
One day, Jia Jia was climbing trees with her brother when she saw her friend Mi Mi the monkey.
Mi Mi was a very mischievous monkey.
"Hi Mi Mi!"Jia Jia said while munching on some bamboo."Lets go and play by the river over there!" said Mi Mi.