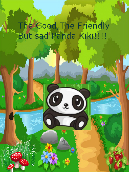 Read Online
The good, friendly but sad Panda
Once upon a time thier lived a panda named Kiki.
One day, Kiki was walking around when she saw her father who had gone out earlier that day to find food for her family to eat being taken by poachers."Yes , this will do! The little fellow has soft fur !"
Kiki ran back to her village and said"Quick someone help my father!" all the panda's ran to the location.They quickly ran to hlep him and gave the pochers a scary look,that the poachers ran away.