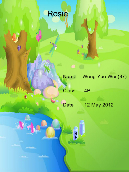 Read Online
Once upon a time, there was a girl named Rosie. Her mother and Rosie owned a beautiful garden.
Her mother gave her some special seeds that could grow into beautiful flowers.
When the flowers are fully bloomed, Rosie will collect them and bring them to the market to sell to the florist. She will then give away the money that she earned to the poor and under privileged people.