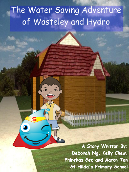 Read Online
The Water Saving Adventure of Wasteley and Hydro
There was once a small island on planet Earth called Singapore. On that island, there lived a young boy named Wasteley. He loved to waste water especially when he was at home.
During the time Wasteley lived, a super water droplet named Hydro from the planet called Sing Droplet was making his rounds, ensuring that people would do their part in conserving water.
One day, when Hydro was travelling in his spaceship, he passed by Singapore and saw Wasteley leaving the tap on while he was brushing his teeth.