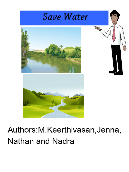 Read Online
Once upon a time, there was a country called, Hope, which had beautiful rivers. However, the rivers began to dry up. So, the minister decided to investigate. He was horrified by the way everyone used water. Many let the water run while brushing their teeth or showering.
The minister's heart was extremely saddened.
Finally one day, there was not a single drop of water left. Everyone's skin dried up.They had wrinkles like old people. No one smiled anymore. Soon there was no more food left too.