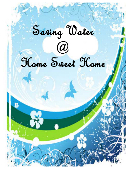 Read Online
Saving Water @ Home Sweet Home
Hi ! My name is Bubbly.
I live with my mother, father and brother. Everyday, I would help help my mother in the kitchen. My mother loves to cook.
My mother will remind me to wash the vegetables in a bowl.
I will then use the water to water my plants.