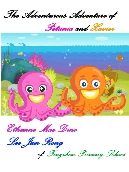 Read Online
The Adventurous Adventure of Petunia and Xavier
This is our adventurous story of how we ended up in this beautiful tank! We are not your ordinary octopuses because we can talk to all living things (that includes you, yes you!)!
Petunia and I lived in an old, plain and round fish tank. There was also a mean fish living with us, Buford. He would jeer, bully and command us to do things for him.
One day (the day our life changed… for the better), as the sun was rising from the horizon, a man came in. Shocked, I wondered why that man was at the store that early. No one comes to the store that early.