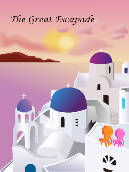 Read Online
We were so happy and carefree. Until that fateful day when Octavia was captured by a two-legged alien …
"I bet you can never swim faster than me !" Octavia announced gleefully.
Octavia was always boasting about how fast she was, how smart she was and how pretty she was. In fact I, Okto, was only better than her at one thing, and that was bravery.
You must be thinking that I am useless compared to Octavia. The truth is, I am! Thank goodness for Octavia, without her I would have died a long time ago. I never knew bumping my head on the glass was deadly.