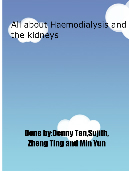 Read Online
All about haemodialysis and the kidneys
What is haemodialysis?
-It is a type of treatment for kidney failure that usually takes 4 hours.
-It is done by the passing of blood through a
semipermeable membrane in a dialyser in order to remove waste materials and excess water.
-Generally,a surgeon joins an artery and a vein together to create a fistula,at which two needles are inserted into during dialysis.